Las Vegas, NV – "The IAM is the largest Union in Air Transportation across Canada. DL140 our largest district," IAM Canadian General Vice President Stan Pickthall told delegates to the 2019 IAM Transportation Conference here.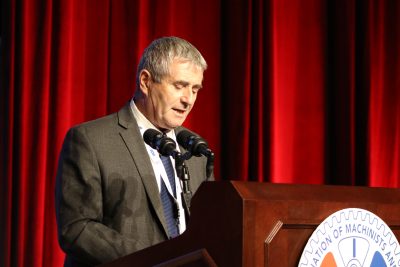 "In the words of our Toronto Organizer Sam Jabbar, "every day in the airport is a great day to Organize." District 140 continues to grow and organize across the country," he said. "Last year saw some 1,000 new members Organized by DL140 Organizers in Montreal, Toronto, Calgary, Edmonton, Vancouver and Winnipeg." Overall, IAM Canada increased its membership by 10 per cent but on the flipside there are unrelenting challenges both from other unions, and employers and the government.
"We face daily the challenge of Opportunistic "rogue" Unions that are out there raiding us at every turn," he told delegates. "These organizations add nothing to the Labour movement, but only serve the interests of the employers as they divide our membership and eat our Resources. The CAWU raid on our Toronto Screeners in 2017-18 is a case-in-point. District 140 was forced to fight the CAWU in the workplace, and fight Garda at the bargaining table. The cost in both dollars and in person-hours (person-months!!) of work was significant. This attack against our Sisters and Brothers of Local 2921 is an affront to all of us!"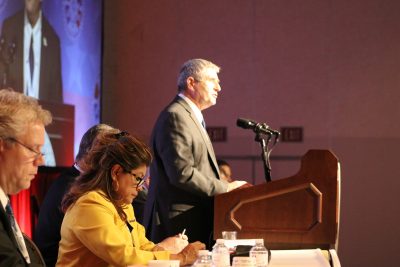 Pickthall then touched on the various aspects of Political Action and how IAM Canada has used it to face the challenges involving Air Transport. "Two years ago, I spoke about the Emerson Report: The Report," he told the delegates, "It was written by a Conservative Stalwart, and was then under review by Trudeau's Liberals. Liberals, as we all know, campaigned on the left, but now Govern on the right. Our response to the Emerson Report was clear: We demanded to have our voices heard and our expertise recognized when the Federal Government of any stripe intends to reform the Canada Transportation Act."
"Our main recommendation," he said, "was this: The IAM recommends that we must not succumb to the lowest standards anywhere in the world, but must instead ensure that the highest standards are always adopted and supported to ensure a healthy, safe and viable air transport sector. We must not degrade or lower our standards regardless of what we are trying to achieve."
Privatization of Canada's airports was one of the issues that flowed from the Emerson Report. The IAM opposed privatization. We ran campaigns, talked to our members, and signed petitions to Government. Last Spring, The Federal NDP presented our petition with some 10,000 signatures in the House of Commons. "Within a few weeks, the Government announced that plans to Privatize airports were on hold," he said with a great deal of satisfaction. "Now I'm not saying we were the sole deciding factor. But I guarantee we were A Factor!   Political Action Works!"
Pickthall also touched on a thorn in the side of IAM Canada members, the issue of contract flipping.
"Our members oppose flipping contracts and RFP's that undermine our Collective Agreements. This is a growing trend of great concern to the IAM," he said. "We have made submissions to the Minister of Labour to address contract flipping, and have made some in-roads. We have submitted that when a contract is put out to tender: a worker must maintain their job, must retain their wage and benefit levels, and must retain their Union in the same way they do under successorship applications. Contract Flipping is an outrage, and airport workers have had enough! We have made some headway on these issues, but there is a great deal left to do. We will continue the fight!"
-30-
Link to the Article from IAM Canada website: The Challenges Never End!